When you're relying upon work being done on your property or your machinery, the best professionals come by recommendation. The useful people listed below are all people we have used and would recommend and the restaurants are those we have eaten at and would recommend.
Restaurants
This Chinese restaurant is a real revelation. Easy to get to and they're open every day except Monday.
The food is excellent, the price is unbeatable and the service is brilliant
Thoroughly recommended
Address: 2 Rue Réaumur 53100 MAYENNE
Telephone: 02 43 08 96 87
The Royal Fougeres is a Chinese restaurant right in the center of the Zone Commercial in Fougeres, making it easy to get to, easy to park and wonderful for either before or after shopping!
Address: Centre commercial la Pilais
35133 Lécousse
Telephone: 02 23 51 02 30
L'Ardoise is a fine restaurant with a great atmosphere that we return to again and again for its quality and value for money
Address: 28 Place de la Motte
50600 Saint Hilaire du Harcouët
Telephone: 02 14 13 63 38
Website:www.restaurant-a-lardoise.fr
Email:Send a message from their website
The food and service exceeded expectations and this restaurant will be one we will be returning to.Thoroughly recommended!
Address: 32 rue du Chateau
50600 Saint Hilaire du Harcouët
Telephone: 02 33 49 21 01
Everything else…
Valérie speaks excellent English and is an absolute treasure trove of information, from taxes to help with translations and help with purchases. Very reasonable rates too.
Address: 30 place du Marché 53100 Châtillon-sur-Colmont France
Telephone: 09 71 42 90 51
Mobile: 06 67 53 64 47
Email: valerie@sosanglo.com
Website: www.sosanglo.com
Elliotts is a small, family run boucherie, popular with the English and French alike. The quality is second to none and their sausages are to die for.
Address: ZI des Sapinettes, Gorron, France, 53120
Telephone: 02 43 30 46 89
Email: elliottsboucherie@gmail.com
Website: www.elliottsboucherie.com
Tina's Brocante is an English run depot vent that is an absolute treasure-trove of odds and sods. Go see for yourselves!
Address: Les Landes 61350 Mantilly
Telephone: 02 33 30 83 64
Email: tina.cross@live.fr
This man also does chimney sweeping and we have to say, he does an absolutely excellent job. His price is more than reasonable for the work he does. Thoroughly recommended!
Address: EURL Bruno Tesnière 56 Rue de Bretagne 53120 Gorron
Telephone: 02 43 08 61 28
Email: tesniere.bruno@wanadoo.fr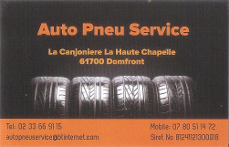 We found this company to be very professional, very helpful and great value for money. They speak French and English and are well worth checking out.
Address: Auto Pneu. Espace Domfrontais, Rue du Mont Saint-Michel, 61700
Telephone: 02 33 66 91 15
Mobile: 07 80 51 14 72
Email: autopneuservice@btinternet.com
Situated in Mortain, he was recommended to us, so we made an appointment and were not disappointed.
Address: La Detourbe, 5140, St Clement Rancoudray
Mobile: 06 69 72 52 50

Shane Colvin Mechanic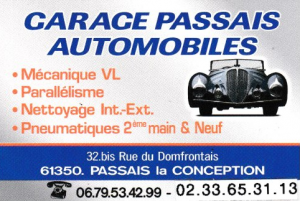 Situated in Passais La Conception, they were very quick, courteous and reasonable. Would thoroughly recommend.
Address: 32 bis Rue Domfrontais, 61350, Passais La Conception
Telephone: 02 33 65 31 13
Mobile: 06 79 53 42 99
Came out at a moment's notice and got us out of the nasty stuff. Would recommend him and his work.
Telephone: 06.15.52.51.51